UPDATE 1/16/2016: Set re-upped, with MORE pics added!
How was everyone's New Year's celebration? Hope all of you had fun. So there was this one time when I saw a video shared in Facebook showing a chick whose blouse gets unbuttoned while riding shotgun in a Toyota Supra race car, exposing her luscious cleavage. The chick was smoking hot, so naturally I did some further investigation & found out that she is a Russian model named Manizha Faraday. I also found out that the video I saw wasn't the full version. The full video fully exposes her boobies after her blouse gets totally unbuttoned. Well, that's one way of getting a chick naked.

Preview pics: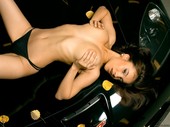 DOWNLOAD THE .RAR (93 249 pics & 2 videos, 184.41 Mb) MIRROR LINK
Set includes a shit ton of pics & 2 videos, including the full version of the infamous Toyota drift video. Belated Happy New Year, Fappers!
Can't fap because the sets are either too big or too slow to download? No worries, a premium account will fix all of that!
As always, all photos & videos have been collected from various sources & all duplicates were removed. FAP HARD!